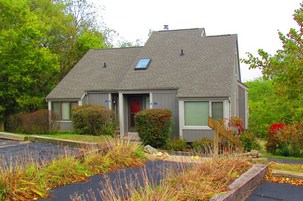 T005
These two and three-bedroom Eagle Ridge Townhouses are situated on a heavily wooded bluff overlooking the magnificent rolling landscape of The Galena Territory and are located within very close proximity to the Inn and within easy walking distance to the Inn and General Store. Each townhouse includes such features as a loft balcony overlooking a living/dining area with vaulted ceilings, exposed beams and a lower level great room. This unit also has an electric fireplace in the main level living room.

This villa comes with an outdoor grill.

Please note: This rental is not pet friendly.
More Information